Tapering Patients Off of Chronic Opioid Therapy
is an online continuing medical education (CME) course produced in collaboration with Dr. Anna Lembke.
Doctors may be equipped to prescribe for chronic pain, but they are often not given enough opportunities to consider productive, real-time strategies for fighting opioid addiction. In a series of short videos, we demonstrate methods for having difficult conversations with opioid-dependent and opioid-addicted patients, along with managing the process for tapering off opioids where we explore alternative, non-medication therapies such as dialectical behavioral therapy (DBT).

Laura's Story
The videos are rooted in a fictionalized character named Laura, who is based off a real-life patient of Dr. Lembke. For much of her life, Laura had struggled with inexplicable chronic pain, for which she was eventually prescribed pain-relieving opioids. However, for the following five years, the efficacy of the medication waned, while the doses — and her dependence — increased.
Our goal to portray the breadth and depth of Laura's experience was informed by the bounded resources at our disposal. Rather than resort to live-action representations which would have required a level of coordination that did not fit our production timeline, our team utilized traditional illustration and animation techniques to evoke Laura's story with the same meticulous detail.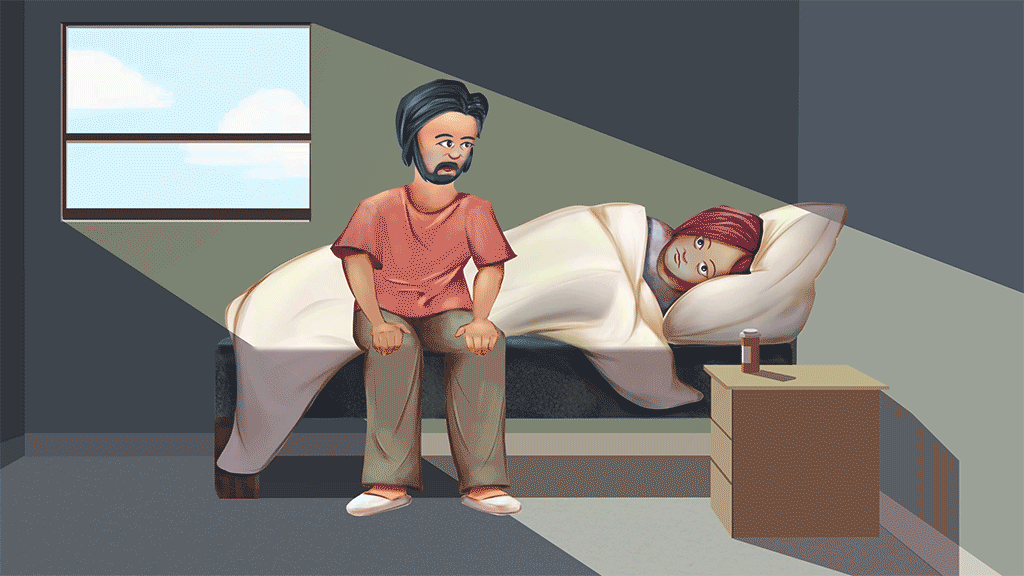 The art direction for the course arose from a muted palette of blue, brown, and orange. The overall pastel tone mixed with the simple animations lends Laura's story a subdued, grungy quality that mimics her state of mind as her opioid dependency grows more and more out of control.
The initial sketches and illustrations, created in both Illustrator and Photoshop, kept this theme consistently in mind.

There are several motifs that runs throughout the course, highlighting the experiences of both pain management and opioid dependency. A few of these include:

- A ball rolling down different types of ramps to represent the different phases of the tapering process
- A sliding puzzle pointing at the overarching theme of managing pain over time
- Prescription sheets informing the didactic material
(see below)
presented in conjunction with Laura's story
All motion graphics were designed in Illustrator and assembled in After Effects.
Laura's story was animated using Character Animator, which allowed us to control our characters — from Laura to Dr. Lembke's avatar — using live motion-capture. These characters were then composited in After Effects over 2D environments that were designed and illustrated in Photoshop.
This trifecta of tools was indispensable in our efforts to bring Laura's story to life.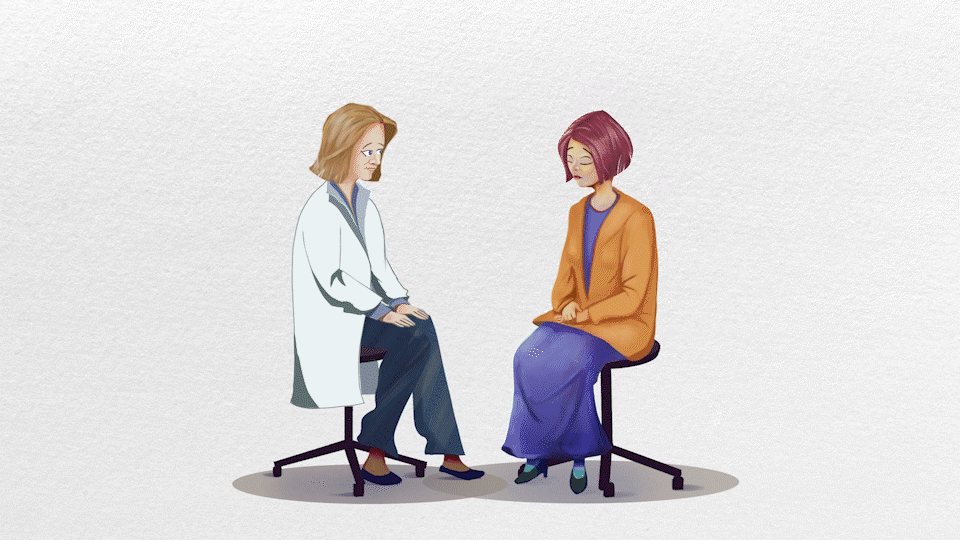 3D Graphics
There are several moments in the course that required more elaborate representations than those achieved on a 2D space. The mechanics of opioid tapering, for example, found in the section of the course covering "velocity," employs the metaphor of a rocket launch to illustrate its point. This was an opportunity to utilize 3D tools, like Maya, to more realistically visualize and animate this concept.
Final Product
The course is comprised of six videos — an introduction and five chapters covering each letter of the BRAVO acronym that is central to the opioid tapering process — and an audio interview between Dr. Lembke and the real-life patient who inspired Laura.
The total length is roughly 75 minutes, and the course is available
here
for CME credit.